HomeDecksAncient Magick Divination Cards
More About These CardsName:Ancient Magick Divination Cards
Companion Material:Small booklet and a three card spread fold-out leaflet.
Card Images from the Ancient Magick Divination Cards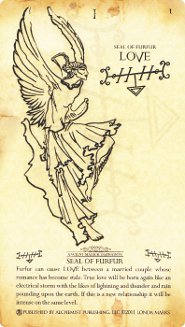 Similar Decks to Ancient Magick Divination CardsCreator:Alchemist TarotAlchemist TarotAlchemists Spell TarotCrows Magick TarotFiorenza TarotLonda TarotMedici Tarotby Londa Marks
Oracle Deck – 28 Cards – Alchemist Publishing 2010
Previous DeckBack to TopNext Deck
The Ancient Magick Divination Cards is a deck of 28 cards with some links to tarot. The black-printed cards are illustrated in Londa Marks distinctive style, and are wonderfully antiqued in both look and feel.
Most Popular Decks at AeclecticWild Unknown Tarot
Card Size: 2.75 x 3.75 in. = 6.99cm x 9.53cm