Man is in various ways subject to the influence of evil spirits. By original sin he brought himself into captivity under the power of him who thence [from the time of Adams transgression] had the empire of death, that is to say, the Devil (Council of Trent, Sess. V, de pecc. orig., 1), and was through the fear of death all his lifetime subject to servitude (Hebrews 2:15). Even though redeemed by Christ, he is subject to violent temptation: for our wrestling is not against flesh and blood; but against principalities and powers, against the rulers of the world of this darkness, against the spirits of wickedness in the high places (Ephesians 6:12). But the influence of the demon, as we know from Scripture and the history of the Church, goes further still. He may attack mans body from without (obsession), or assume control of it from within (possession).
Possession is when Satan enters and takes over the physical and mental capabilities of a victim, however, the soul and will remains free. Satan acts through the victim without the victims consent, thus the victim is morally blameless. Satan does not act alone when he possesses an individual. He works side by side with many evil spirits such as spirits of lust, hate, destruction, suicide, revenge, anger, anxiety, desperation, death, torment, etc. Such an example is found in Luke 8:30 the case of the possessed man in the territory of the Gerasenes: Then Jesus asked him, What is your name? He replied, Legion, because many demons had entered him.
Luke 22:3: And Satan entered into Judas, who was surnamed Iscariot, one of the twelve.
St. Bridgets Prophecies & Revelations [MUST READ]
Blessing of the Medal of St Benedict
Proof of Gods Creation / Refuting Atheism
Demonic oppression is said to be a mild to severe haras
Among the ancient pagan nations diabolical possession was frequent, as it is still among their successors. In the Old Testament we have only one instance, and even that is not very certain. We are told that an evil spirit from the Lord troubled Saul (1 Samuel 16:14). The Hebrew rah need not imply a personal influence, though, if we may judge from Josephus (Ant. Jud., VI, viii, 2; ii, 2), the Jews were inclined to give the word that meaning in this very case. In New-Testament times, however, the phenomenon had become very common. The victims were sometimes deprived of sight and speech (Matthew 12:22), sometimes of speech alone (Matthew 9:32; Luke 11:14), sometimes afflicted in ways not clearly specified (Luke 8:2), while, in the greater number of cases, there is no mention of any bodily affliction beyond the possession itself (Matthew 4:24; 8:16; 15:22; Mark 1:32, 34, 39; 3:11; 7:25; Luke 4:41; 6:18; 7:21; 8:2). The effects are described in various passages. A young man is possessed of a spirit who, wheresoever he taketh him, dasheth him, and he foameth, and gnasheth with his teeth, and pineth away, . . .and oftentimes hath he [the spirit] cast him into the fire and into waters to destroy him (Mark 9:17, 21). The possessed are sometimes gifted with superhuman powers: a man with an unclean spirit, who had his dwelling in the tombs, and no man now could bind him, not even with chains. For having been often bound with fetters and chains, he had burst the chains, and broken the fetters in pieces, and no one could tame him (Mark 5:2-4). Some of the unfortunate victims were controlled by several demons (Matthew 12:43, 45; Mark 16:9; Luke 11:24-26); in one case by so many that their name was Legion (Mark 5:9; Luke 8:30). Yet, evil as the possessing spirits were, they could still help testifying to Christs Divine mission (Matthew 8:29; Mark 1:24, 34; 3:12; 5:7; Luke 4:34, 41; 8:28). And they continued to do so after His Ascension (Acts 16:16-18).
And there was there near the mountain a great herd of swine, feeding. And the spirits besought him, saying: Send us into the swine, that we may enter into them. And Jesus immediately gave them leave. And the unclean spirits going out, entered into the swine: and the herd with great violence was carried headlong into the sea, being about two thousand, and were stifled in the sea. And they that fed them fled, and told it in the city and in the fields. And they went out to see what was done: And they came to Jesus, and they see him that was troubled with the devil, sitting, clothed, and well in his wits, and they were afraid.
Those Cursed or Held Guilty by Original Sin
Besides exorcism in the strictest sense i.e. for driving out demons from the possessed Catholic ritual, following early traditions, has retained various other exorcisms, and these also call for notice here.
There is an additional consideration. Satan and his evil host can do nothing the Lord does not allow them to do (Job 1-2). This being the case, Satan, thinking he is accomplishing his own purposes, is actually accomplishing Gods good purposes, as in the case of Judas betrayal. Some people develop an unhealthy fascination with the occult and demonic activity. This is unwise and unbiblical. If we pursue God, if we are clothing ourselves with His armor and relying upon His strength (Ephesians 6:10-18), we have nothing to fear from the evil ones, for God rules over all!
Important Spiritual Info About How to Control Your Eyes You Must Know About to be Saved
Best Adblockers, Imageblockers and Flashblockers
Exorcism is (1) the act of driving out, or warding off, demons, or evil spirits, from persons, places, or things, which are believed to be possessed or infested by them, or are liable to become victims or instruments of their malice; (2) the means employed for this purpose, especially the solemn and authoritative adjuration of the demon, in the name of God, or any of the higher power in which he is subject (an angel, a saint, the Blessed Virgin etc.). In short, it is a ritual performed by a Catholic priest to expel the devil from a person, place or thing.
Physical strength beyond the persons natural physical makeup;
The Bible gives some examples of people possessed or influenced by demons. From these examples we can find some symptoms of demonic influence and gain insight as to how a demon possesses someone. Here are some of the biblical passages:
Matthew 12:22: Then was offered to him one possessed with a devil, blind and dumb: and he healed him, so that he spoke and saw.
Simple exorcism- blessing a place or thing to rid it of evil influence;
Specialists in the area of demonology have categorized the state of demon possession into two groups: Demonic oppression and complete Demonic possession.
The word, which is not itself biblical, is derived fromexorkizo, which is used in the Septuagint (Genesis 24:3 = cause to swear; III(I) Kings 22:16 = adjure), and in Matthew 26:63, by the high priest to Christ, I adjure thee by the living God. . . The non-intensivehorkizoand the noun exorkistes (exorcist) occur in Acts 19:13, where the latter (in the plural) is applied to certain strolling Jews who professed to be able to cast out demons. Expulsion by adjuration is, therefore, the primary meaning of exorcism, and when, as in Christian usage, this adjuration is in the name of God or of Christ, exorcism is a strictly religious act or rite. But in ethnic religions, and even among the Jews from the time when there is evidence of its being vogue, exorcism as an act of religion is largely replaced by the use of mere magical and superstitious means, to which non-Catholic writers at the present day sometimes quite unfairly assimilate Christian exorcism. Superstition ought not to be confounded with religion, however much their history may be interwoven, nor magic, however white it may be, with a legitimate religious rite.
Descriptions of demonic possessions often include erased memories or personalities, convulsions, fits and fainting as if one were dying. Other descriptions include access to hidden knowledge (gnosis) and foreign languages (glossolalia), drastic changes in vocal intonation and facial structure, the sudden appearance of injuries (scratches, bite marks) or lesions, and superhuman strength. Unlike in channeling or other forms of possession, the subject has no control over the possessing entity and so it will persist until forced to leave the victim, usually through a form of exorcism.
The chief characteristics of these Jewish exorcisms is their naming of names believed to be efficacious, i.e., names of good angels, which are used either alone or in combination with El (=God); indeed reliance on mere names had long before become a superstition with the Jews, and it was considered most important that the appropriate names, which varied for different times and occasions, should be used. It was this superstitious belief, no doubt, that prompted the sons of Sceva, who had witnessed St. Pauls successful exorcisms in the name of Jesus, to try on their own account the formula, I conjure you by Jesus whom Paul preacheth, with results disastrous to their credit (Acts 19:13). It was a popular Jewish belief, accepted even by a learned cosmopolitan like Josephus, that Solomon had received the power of expelling demons, and that he had composed and transmitted certain formul that were efficacious for that purpose. The Jewish historian records how a certain Eleazar, in the presence of the Emperor Vespasian and his officers, succeeded, by means of a ring applied to the nose of a possessed person, in drawing out the demon through the nostrils the effect of the ring being due to the fact that it enclosed a certain rare root indicated in the formula of Solomon, and which it was exceedingly difficult to obtain (Ant. Jud, VIII, ii, 5; cf. Bell. Jud. VII, vi, 3).
From missionaries experiences, demon possession also seems to be related to the worship of heathen idols and the possession of occult materials. Scripture repeatedly relates idol worship to the actual worship of demons (Leviticus 17:7; Deuteronomy 32:17; Psalm 106:37; 1 Corinthians 10:20), so it should not be surprising that involvement with idolatry could lead to demon possession.
Demonic spirits are also referred to as evil spirits and are depicted in the bible as fallen angels. These are the angels who took side with Lucifer (Satan) in his rebellion against God. (Rev. 12:4)
Matthew 9:32-33: And when they were gone out, behold they brought him a dumb man, possessed with a devil. And after the devil was cast out, the dumb man spoke, and the multitudes wondered, saying, Never was the like seen in Israel.
Proximity to Evil Places or Persons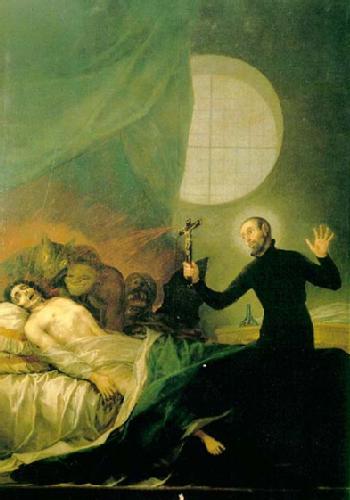 Mark 5:1-20: And they came over the strait of the sea into the country of the Gerasens. And as he went out of the ship, immediately there met him out of the monuments a man with an unclean spirit, Who had his dwelling in the tombs, and no man now could bind him, not even with chains. For having been often bound with fetters and chains, he had burst the chains, and broken the fetters in pieces, and no one could tame him. And he was always day and night in the monuments and in the mountains, crying and cutting himself with stones.
A real exorcism is what most of us think of when we think of exorcism. In this case, the priest-exorcist is dealing with a human being who is possessed by the devil or a demon who is inhabiting this persons body.
Speaking or understanding languages which the person has never learned (different from speaking in tongues, which is considered a sign of religious ecstasy, not possession);
Important Spiritual Info You Must Know About to be Saved From Hell
But sometimes in addition to words some symbolic action was employed, such as breathing (insufflatio), or laying of hands on the subject, or making the sign of the cross. St. Justin speaks of demons flying from the touch and breathing of Christians (Second Apology 6) as from a flame that burns them, adds St. Cyril of Jerusalem (Catechetical Lectures 20.3). Origen mentions the laying of hands, and St. Ambrose (Paulinus, Vit. Ambr., n. 28, 43, P.L, XIV, 36, 42), St. Ephraem Syrus (Gregory of Nyssa, De Vit. Ephr., P.G., XLVI, 848) and others used this ceremony in exorcising. The sign of the cross, that briefest and simplest way of expressing ones faith in the Crucified and invoking His Divine power, is extolled by many Fathers for its efficacy against all kinds of demoniac molestation (Lactantius, Divine Institutes IV.27; Athanasius, On the Incarnation of the Word 47; Basil, In Isai., XI, 249, P.G., XXX, 557, Cyril of Jerusalem, Catechetical Lectures 13.3; Gregory Nazianzen, Carm. Adv. iram, v, 415 sq.; P.G., XXXVII, 842). The Fathers further recommend that the adjuration and accompanying prayers should be couched in the words of Holy Writ (Cyril of Jerusalem, Procatechesis 9; Athanasius, Ad Marcell., n. 33, P.G., XXVII, 45). The ancient rite of exorcism as given in the Roman Ritual fully agrees with patristic teaching and is a proof of the continuity of Catholic tradition in this matter.
Recent Updates, Articles and Changes
We are Looking for Helpers and Translators
Real exorcism- performing the Rite of Exorcism to rid a human being of diabolical possession.
In some of these passages, the demon possession causes physical ailments such as inability to speak, epileptic symptoms, blindness, etc. In other cases, it causes the individual to do evil, Judas being the main example. In Judas case, he opened his heart to evilin his case by his greed (John 12:6). So it may be possible that if one allows his heart to be ruled by some habitual sin, it becomes an invitation for a demon to enter. In Acts 16:16-18, the spirit apparently gives a slave girl some ability to know things beyond her own learning. The demon-possessed man of the Gadarenes, who was possessed by a multitude of demons (Legion), had superhuman strength and lived naked among the tombstones. King Saul, after rebelling against the Lord, was troubled by an evil spirit (1 Samuel 16:14-15; 18:10-11; 19:9-10) with the apparent effect of a depressed mood and an increased desire to kill David.
How Do People Become Possessed by Demons?
Thus, there is a wide variety of possible symptoms of demon possession, such as a physical impairment that cannot be attributed to an actual physiological problem, a personality change such as depression or aggression, supernatural strength, immodesty, antisocial behavior, and perhaps the ability to share information that one has no natural way of knowing. It is important to note that nearly all, if not all, of these characteristics may have other explanations, so it is important not to label every depressed person or epileptic individual as demon-possessed. On the other hand, western cultures probably do not take satanic involvement in peoples lives seriously enough.
Mark 7:26-30: For the woman was a Gentile, a Syrophenician born. And she besought him that he would cast forth the devil out of her daughter. Who said to her: Suffer first the children to be filled: for it is not good to take the bread of the children, and cast it to the dogs. But she answered and said to him: Yea, Lord; for the whelps also eat under the table of the crumbs of the children. And he said to her: For this saying go thy way, the devil is gone out of thy daughter. And when she was come into her house, she found the girl lying upon the bed, and that the devil was gone out.
And they that had seen it, told them, in what manner he had been dealt with who had the devil; and concerning the swine. And they began to pray him that he would depart from their coasts. And when he went up into the ship, he that had been troubled with the devil, began to beseech him that he might be with him. And he admitted him not, but saith to him: Go into thy house to thy friends, and tell them how great things the Lord hath done for thee, and hath had mercy on thee. And he went his way, and began to publish in Decapolis how great things Jesus had done for him: and all men wondered.
According to the Church, telltale signs of demonic possession include:
Exorcism is (1) the act of driving out, or warding off, demons, or evil spirits, from persons, places, or things, which are believed to be possessed or infested by them, or are liable to become victims or instruments of their malice; (2) the means employed for this purpose, especially the solemn and authoritative adjuration of the demon, in the name of God, or any of the higher power in which he is subject.
A violent aversion to God, the Virgin Mary, the cross and other images of Catholic faith.
Satans army of evil, torment many unknowing lost souls to the point of destruction of others and of themselves. Today a more favorable climate exists for cases of possession and obsession then ever before. Our world has become a playground of pornography, sex, money, material possessions, drugs, and alcohol. There are so many instruments to spread these Satanic messages such astelevision,video games, Internet, radio,music, and even theclothingwe wear; thus our children are exposed to a multitude of temptations and are wide open to evil. The predominant Gods of of this age we live in include money, television, music, thrill seeking, and sex. Unfortunately, the cure-exorcism, is considered an ancient ritual and is snubbed by most religious leaving many victims to suffer indescribable torments, and in some instances, even suicide.
The Exorcism Prayer – Latin version
In addition to these physical or emotional distinctions, one can also look at spiritual attributes showing demonic influence. These may include a refusal to forgive (2 Corinthians 2:10-11) and the belief in and spread of false doctrine, especially concerning Jesus Christ and His atoning work (2 Corinthians 11:3-4, 13-15; 1 Timothy 4:1-5; 1 John 4:1-3).
And seeing Jesus afar off, he ran and adored him. And crying with a loud voice, he said: What have I to do with thee, Jesus the Son of the most high God? I adjure thee by God that thou torment me not. For he said unto him: Go out of the man, thou unclean spirit. And he asked him: What is thy name? And he saith to him: My name is Legion, for we are many. And he besought him much, that he would not drive him away out of the country.
We have it on the authority of all early writers who refer to the subject at all that in the first centuries not only the clergy, but lay Christians also were able by the power of Christ to deliver demoniacs or energumens (possessed people), and their success was appealed to by the early Apologists as a strong argument for the Divinity of the Christian religion (Justin Martyr, First Apology 6; Dialogue with Trypho 30 and 85; Minutius Felix, Octavius 27; Origen, Against Celsus I.25; VII.4; VII.67; Tertullian, Apology 22, 23; etc.). As is clear from testimonies referred to, no magical or superstitious means were employed, but in those early centuries, as in later times, a simple and authoritative adjuration addressed to the demon in the name of God, and more especially in the name of Christ crucified, was the usual form of exorcism.
Based on the above scriptural passages and some of the experiences of missionaries, we can conclude that many people open their lives up to demon involvement through the embracing of some sin or through cultic involvement (either knowingly or unknowingly). Examples may include immorality, drug/alcohol abuse that alters ones state of consciousness, rebellion, bitterness, and transcendental meditation.
Luke 4:33-36: And in the synagogue there was a man who had an unclean devil, and he cried out with a loud voice, Saying: Let us alone, what have we to do with thee, Jesus of Nazareth? art thou come to destroy us? I know thee who thou art, the holy one of God. And Jesus rebuked him, saying: Hold thy peace, and go out of him. And when the devil had thrown him into the midst, he went out of him, and hurt him not at all. And there came fear upon all, and they talked among themselves, saying: What word is this, for with authority and power he commandeth the unclean spirits, and they go out?
Real Exorcisms Of Demons Attacking On Camera
Important Info About the Natural Law You Must Know About to be Saved
According to Catholic belief demons or fallen angels retain their natural power, as intelligent beings, of acting on the material universe, and using material objects and directing material forces for their own wicked ends; and this power, which is in itself limited, and is subject, of course, to the control of Divine providence, is believed to have been allowed a wider scope for its activity in the consequence of the sin of mankind. Hence places and things as well as persons are naturally liable to diabolical infestation, within limits permitted by God, and exorcism in regard to them is nothing more than a prayer to God, in the name of His Church, to restrain this diabolical power supernaturally, and a profession of faith in His willingness to do so on behalf of His servants on earth.
At an early age the practice was introduced into the Church of exorcising catechumens as a preparation for the Sacrament of Baptism. This did not imply that they were considered to be obsessed, like demoniacs, but merely that they were, in consequence of original sin (and of personal sins in case of adults), subject more or less to the power of the devil, whose works or pomps they were called upon to renounce, and from whose dominion the grace of baptism was about to deliver them.
How Do People Become Possessed by Demons?
Assuming the reality of demoniac possession, for which the authority of Christ is pledged, it is to be observed that Jesus appealed to His power over demons as one of the recognised signs of Messiahship (Matthew 12:23, 28; Luke 11:20). He cast out demons, He declared, by the finger or spirit of God, not, as His adversaries alleged, by collusion with the prince of demons (Matthew 12:24, 27; Mark 3:22; Luke 11:15, 19); and that He exercised no mere delegated power, but a personal authority that was properly His own, is clear from the direct and imperative way in which He commands the demon to depart (Mark 9:24; cf. 1:25 etc.): He cast out the spirits with his word, and he healed all that were sick (Matthew 8:16). Sometimes, as with the daughter of the Canaanean woman, the exorcism took place from a distance (Matthew 15:22 s电话.; Mark 7:25). Sometimes again the spirits expelled were allowed to express their recognition of Jesus as the Holy One of God (Mark 1:24) and to complain that He had come to torment them before the time, i.e the time of their punishment (Matthew 8:29 s电话; Luke 8:28 s电话.). If demoniac possession was generally accompanied by some disease, yet the two were not confounded by Christ, or the Evangelists. In Luke 13:32, for example, the Master Himself expressly distinguishes between the expulsion of evil spirits and the curing of disease.
There are several types of exorcism in the Roman Catholic Church:
Acts 16:16-18: And it came to pass, as we went to prayer, a certain girl, having a pythonical spirit, met us, who brought to her masters much gain by divining. This same following Paul and us, cried out, saying: These men are the servants of the most high God, who preach unto you the way of salvation. And this she did many days. But Paul being grieved, turned, and said to the spirit: I command thee, in the name of Jesus Christ, to go out from her. And he went out the same hour.
Christ also empowered the Apostles and Disciples to cast out demons in His name while He Himself was still on earth (Matthew 10:1 and 8; Mark 6:7; Luke 9:1; 10:17), and to believers generally He promised the same power (Mark 16:17). But the efficacy of this delegated power was conditional, as we see from the fact that the Apostles themselves were not always successful in their exorcisms: certain kinds of spirits, as Christ explained, could only be cast out by prayer and fasting (Matthew 17:15, 20; Mark 9:27-28; Luke 9:40). In other words the success of exorcism by Christians, in Christs name, is subject to the same general conditions on which both the efficacy of prayer and the use of charismatic power depend. Yet conspicuous success was promised (Mark 16:17). St. Paul (Acts 16:18; 19:12), and, no doubt, the other Apostles and Disciples, made use of regularly, as occasion arose, of their exorcising power, and the Church has continued to do so uninterruptedly to the present day(seeThe Truth about What Really Happened to the Catholic Church after Vatican II).
The Extraordinary Activities of Satan Defined
It is implied in Christs answers to the Pharisees, who accused Him of casting out demons by the power of Beelzebub, that some Jews in His time successfully exorcised demons in Gods name: and if I by Beelzebub cast out devils, by whom do your children cast them out? (Matthew 12:27). It does not seem reasonable to understand this reply as mere irony, or as a mere argumentum ad hominem implying no admission of the fact; all the more so, as elsewhere (Mark 9:37-38) we have an account of a person who was not a disciple casting out demons in Christs name, and whose action Christ refused to reprehend or forbid.
Exorcism in this connection is a symbolical anticipation of one of the chief effects of the sacrament of regeneration; and since it was used in the case of children who had no personal sins, St. Augustine could appeal to it against the Pelagians as implying clearly the doctrine of original sin (Ep. cxciv, n. 46. P.L., XXXIII, 890; C. Jul. III, 8; P.L., XXXIV, 705, and elsewhere). St. Cyril of Jerusalem (Procatechesis 14) gives a detailed description of baptismal exorcism, from which it appears that anointing with exorcised oil formed a part of this exorcism in the East. The only early Western witness which treats unction as part of the baptismal exorcism is that of theArabic Canons of Hippolytus(n. 19, 29). The Exsufflatio, or out-breathing of the demon by the candidate, which was sometimes part of the ceremony, symbolized the renunciation of his works and pomps, while the Insufflatio, or in-breathing of the Holy Ghost, by ministers and assistants, symbolised the infusion of sanctifying grace by the sacrament. Most of these ancient ceremonies have been retained by the Church in her rite for solemn baptism.
In the early church the casting out of demons was widely accepted and an exorcism could be performed by anyone. Why then has this practice changed? It has been found that in severe cases if the one who is casting out the demons is not experienced or grounded in faith and does not have sufficient spiritual protection it can be harmful for both the victim and the so called exorcist. We find in Matthew 17:20-21 a case in which the apostles could not cast out a demon from the epileptic demoniac. Jesus rebuked them for not being prepared and told them only through prayer and fasting could this demon be cast out.
Baptismal exorcism- blessing an infant prior to baptism to cleanse it of evil resulting from original sin;
to adjure) is the practice of evicting demons or other evil spiritual entities from a person or place which they are believed to have possessed. The practice is quite ancient and still part of the belief system of many religions. The person performing the exorcism, known as an exorcist, is often a priest, or any individual thought to be graced with special powers or skills. In Christianity, exorcisms are performed in the name of Jesus Christ. A Distinction is made between a formal exorcism, which can only be conducted by a priest during a Baptism or with the permission of a Bishop, and prayers of deliverance which can be said by anyone. In general, possessed persons are not regarded as evil in themselves, nor wholly responsible for their actions.
Knowing (and revealing) things the person has no earthly way of knowing;
The chief things formally exorcised in blessing are water, salt, oil, and these in turn are used in personal exorcisms, and in blessing or consecrating places (e.g. churches) and objects (e.g. altars, sacred vessels, church bells) connected with public worship, or intended for private devotion. Holy water, the sacramental with which the ordinary faithful are most familiar, is a mixture of exorcised water and exorcised salt; and in the prayer of blessing, God is besought to endow these material elements with a supernatural power of protecting those who use them with faith against all the attacks of the devil. This kind of indirect exorcism by means of exorcised objects is an extension of the original idea; but it introduces no new principle, and it has been used in the Church from the earliest ages.
There is no instance in the Old Testament of demons being expelled by men. In Tobias 8:3, is the angel who took the devil and bound him in the desert of upper Egypt; and the instruction previously given to young Tobias (6:18-19), to roast the fishs heart in the bridal chamber, would seem to have been merely part of the angels plan for concealing his own identity. But in extra-canonical Jewish literature there are incantations for exorcising demons, examples of which may be seen in Talmud (Schabbath, xiv, 3; Aboda Zara, xii, 2; Sanhedrin, x, 1). These were sometimes inscribed on the interior surface of earthen bowls, a collection of which (estimated to be from the seventh century A.D.) is preserved in the Royal Museum in Berlin; and inscriptions from the collection have been published, translated by Wohlstein in the Zeitschrift fr Assyriologie (December, 1893; April, 1894).
The Exorcism Prayer – English version