Flask-urile pot fi normale (albe) sau pot avea proprietati suplimentare, cum ar fi cele magice (albastre) sau unice (portocalii). Nu exista flask-uri rare (galbene) si este de retinut faptul ca flask-urile nu pot fi corupte (nu li se pot aplicaVaal gem-uri).
Flask-uri unice:Blood of the Karui, Atziris Promise, Coruscating Elixir, Forbidden Taste, Kiaras Determination, Lions Roar, The Overflowing Chalice, Rotgut, Rumis Concoction, The Sorrow of the Divine, Taste of Hate, Vessel of Vinktar, Divination Distillate, The Writhing Jar, Doedres Elixir, Laviangas Spirit, Zerphis Last Breath
Flask-uri de viata:Small Life Flask, Medium Life Flask, Large Life Flask, Greater Life Flask, Grand Life Flask, Giant Life Flask, Colossal Life Flask, Sacred Life Flask, Hallowed Life Flask, Sanctified Life Flask, Divine Life Flask, Eternal Life Flask
Flask-urile pot pica din monștri sau din chest-uri, pot fi cumpărate direct de la diferiti NPC din oras sau le puteti obtine prin utilizarea sistemului de rețetă.
Flask-uri de mana:Small Mana Flask, Medium Mana Flask, Large Mana Flask, Greater Mana Flask, Grand Mana Flask, Giant Mana Flask, Colossal Mana Flask, Sacred Mana Flask, Hallowed Mana Flask, Sanctified Mana Flask, Divine Mana Flask, Eternal Mana Flask
Flask-uri hibride:Small Hybrid Flask, Medium Hybrid Flask, Large Hybrid Flask, Colossal Hybrid Flask, Sacred Hybrid Flask, Hallowed Hybrid Flask
Calitatea creste cantitatea de viata/mana recuperata, iar pe pe flask-urile de utillitate ofera o durata mai mare a bonusului.GemulGlassblowers Bubblepoate fi folosit pentru a creste calitatea unui flask.
Flask-ul este o potiune reincarcabila. Aunci cand este consumat, flask-ul se incarca si recupereaza o anumita parte din viata/mana sau ofera anumite bonusuri temporare.
Fiecare personaj are spatiu pentru cinci flask-uri.
Va prezentam in cele ce urmeaza o descriere generala + link-uri catre informatii detaliate pentru flask-uri:
Flask-uri de utilitate:Quicksilver Flask, Bismuth Flask, Stibnite Flask, Amethyst Flask, Ruby Flask, Sapphire Flask, Topaz Flask, Silver Flask, Aquamarine Flask, Diamond Flask, Granite Flask, Jade Flask, Quartz Flask, Phasing, Sulphur Flask, Basalt Flask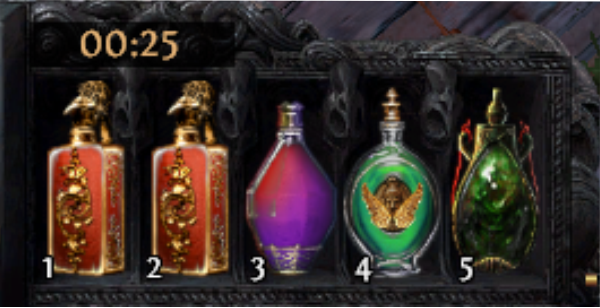 Cand caracterul intra intr-un oras sau intr-o ascunzatoare (hideout), acestea sunt reincarcate complet in mod zonele de lupta, flask-urile se incarca omorand inamici.