Gem linking:Flame Totem + GMP +LMP + Faster Attacks +Faster casting + Item Rarity
);bannerButton.click(function()$(this).hide();banner.animate(left:left,width:width,opacity:show));banner.after(bannerButton);addBanner()elsecount++if(count==iframes.length)setTimeout(monitor,1000);setTimeout(monitor,1000));
POE Duelist Immortal Call + Enduring Cry + Cleave Build
Note:The first attribute will reduce diminishing effect based on the team player number. And the diminishing effect will not exist in second and third attributes.
Gem linking:Faster Attacks + Increased AOE + Reduced duration / Elemental Weakness + Lighting Warp
We Support 20 Multiple Global Currencies, 100 Kinds Of Payment Channels
Buying the Cheapest POE Items and Path of Exile Currency in
;var text=url2;if(getCookie(_gachat)==)text=url1+
POE 1.2.0 Passive Skill Tree Discussion: Effects on COC and Poison Arrow Build
The reason why I choose Flame Totem is long-ranged fire damage. Besides, it does not need too many operations. When you farm in the maps, you do not need to worry about the affixes influence. Of course, summoning build is also not what I want. Before using Flame Totem gem, pick up Ancestral Bond in passive tree.
Using illegal leveling and gold service might terminate the account !
Gem linking: Reduced mana + purity of fire + vitality + purity of lighting
Gem liking: cast on stun + Immortal Call + Molten Shell
© 1999-2016, , Inc. or its affiliates
POE Raging Spirits Build with High Survivability and High Damage
In POE, there are two factors contributing to the dropping rate. They are Increase Item Rarity and Increased Item Quantity.
Gem linking:blood Magic + Reduced Mana + Purity of Element + Discipline
Using illegal leveling and gold service might terminate the account
If you want to check your order status or review your coins account information, Please checkhere
Gem linking:Reduced Mana + Rejuvenation Totem + Arctic Armor/ Portal + Purity of Ice
+textvar count=0;var iframes=$(iframe);for(var i=0;i
1.Player (skills, passive skills and equipment).
The main features of this build are immure to maps with the elemental resistance dropped to the baseline, blood magic and no mana/ blood regeneration. At the same time, this build is also not fit for the newbie in the game. After all, the equipment required is expensive. If you have successfully formed the build, you can earn a lot of POE currency.
Besides, there are also other three factors influencing the dropping rate.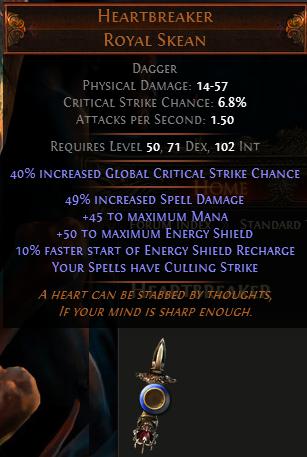 POE currency (scroll, Orb or other) has the dropping penalty mechanism. When the player farms in a map whose level is lower than the player, the dropping rate of POE currency and POE items will be 2.5% less for each level.
POE 2.0 The Awakening Beta Test Development
If your fifa coins account order has issues, to get quick response, please submit questionshere
We Support 20 Multiple Global Currencies, 100 Kinds Of Payment Channels
0)c.prevAll(.chat_banner).show();returnvar animateShowTimer;var banner=$(
0)if(!isShow)bannerButton22.show()returnelse if(isShow)banner.hide()var bannerButton=$(
);banner.mou搜索引擎优化ver(function()if(animateShowTimer)clearTimeout(animateShowTimer));banner.mou搜索引擎优化ut(function()animateShowTimer=setTimeout(animateShow,1000));c.before(banner);var animateShow=function()banner.animate(left:350px,width:0px,height:banner.outerHeight(),opacity:hide,1000,addBannerButton);var sidebar=getCookie(_gachat_sidebar);if(sidebar==)animateShowTimer=setTimeout(animateShow,5000);var d=new Date();d.setMinutes(d.getMinutes()+30);SetCookie(_gachat_sidebar,1,expires:d)elsebanner.hide(0,addBannerButton)c.parent().find(.chat_banner_close).click(animateShow);var addBannerButton=function()var banner=$(this).unbind(mou搜索引擎优化ver).unbind(mou搜索引擎优化ut);var bannerButton22=banner.siblings(.chat_banner_button);var isShow=!banner.is(:hidden)banner.is(:visible)banner.css(display)!=none;if(bannerButton22.length