Site Artwork byJeremy Lampkinand Ash Abdullah
It is nice to know how to useplaying cardsfor divination because you never know when you may want to do a reading at the spur of the moment at a party or small gathering. Indeed there are severalcommon household itemssuch asplaying cards,dicedominoesbooks, andcoinswhich can be used asoraclesif you are familiar with them.
Select from several methods:Draw One CardPast, Present, & Future SpreadThe Horse ShoeThe Ankh SpreadThe Blind SpotThe CrossThe Celtic CrossRelationship Spread 1Relationship Spread 2The Love TriangleThe DecisionThe PathThe Game PlanAstrological Spread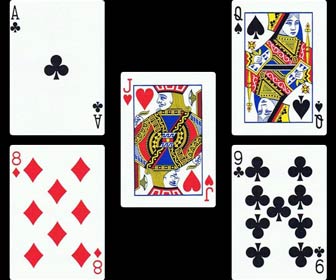 You may have a deck of playing cards laying around somewhere, but did you know that playing cards can be used for divination to do readings just like tarot cards? Tarotsmiths playing card readings have been adapted from tarot meanings and practical tarot spreads. This method is very similar to tarot reading using only the, and could be thought of as lite tarot, as it offers more bluntness by stripping away the higher esoteric functions of the suit of trumps.
[Home] [Decks] [Spreads] [FAQ] [About] [Terms] [Privacy] [Site Map] [Widgets] [Top of Page]